Courtyard Gallery
February 2017 World Cinema Screenings (every Friday at 8pm)
Feb. 3 ~ "M. Hulot's Holiday"
Director: Jacques Tati (France, 1953; 87 min)
Monsieur Hulot takes a holiday at a seaside resort, where his presence provokes one catastrophe after another. Tati's masterpiece of gentle slapstick is a series of effortlessly well-choreographed sight gags involving dogs, boats, and firecrackers; it was the first entry in the Hulot series and the film that launched its maker to international stardom.

Feb. 10 ~ "My Life as a Dog"
Director: Lasse Hallstrom (Sweden, 1985; 101 min)
This is the story of Ingemar, a 12-yr-old from a working-class family sent to live with his uncle in a country village when his mother falls ill. With the help of the warmhearted eccentrics who populate the town, the boy finds both refuge from his misfortunes and unexpected adventure.

Feb. 17 ~ Twin Rivers Media Festival Kickoff: Feature Film (8pm as usual)
"Scammerhead"
Director: Dan Zukovic (1 hr 48 min)
Cult indie director of The Last Big Thing returns with another arthouse monster/global film noir, starring Dan Zukovic, Alex Rocco, Bruce Glover, Alex Zahara. Enter the chaotic adventures of Silas Breece, a legendarily unorthodox business hustler who travels the world seeking capital for increasingly outlandish investments that go sour and land him in hot water with the mob.
Feb. 18 ~ 11am-8:30pm Twin Rivers Media Festival continues with award-winning documentaries (11am - 1pm) and artist demos (1-2pm), animation (2-3 pm), short drama, (3-6pm), and feature film "Money" by Martín Rosete (Spain / 84 min) starting at 7pm. This feature film follows two wealthy businessmen who are about to get away with $5 million in ill-gotten money, until their plans are revealed by an uninvited house guest. See more schedule details below.

Feb. 24 ~ Band of Outsiders"
Director: Jean-Luc Godard (France, 1964; 95 min)
Two restless young men enlist the object of both of their fancies (Anna Karina) to help them commit a robbery—in her own home. This audacious and wildly entertaining French New Wave gem is at once sentimental and insouciant, effervescently romantic and melancholy, and it features some of Godard's most memorable set pieces, including the headlong race through the Louvre and the unshakably cool Madison dance sequence.
Doors open at 7:30 pm
This is a free event, but donations are appreciated.
_____________________________________________
23rd Annual Twin Rivers Media Festival
February 17-18, 2017
Flood Gallery Fine Art Center
Friday 2/17
Feature Film • 8pm
"Scammerhead" (NC Premiere)
by Dan Zukovic
The adventures of a legendarily unorthodox business hustler who travels the world seeking capital for a series of increasingly outlandish investments that go sour.
Saturday 2/18
Documentaries + Discussions
11am - 1pm
Four documentaries featuring life on the Ganges River in India, working the gold mines in Benin, and the creative process for 2 local artists. Filmmakers Kim Best ("Every Egg has a Story") and Aaron Morrell ("Storyprint") will be present for Q&As!

Art Demonstrations • 1-2 pm
Andrea Kulish from documentary "Every Egg has a Story" demonstrates Pysanky eggs.
Andy Farkas from "Storyprint" demonstrates Mokuhanga Japanese woodcut printmaking.

Animation • 2-3pm
Seven gems of animation styles feature true stories, be they of corruption and greed, love and hope, as well as magical worlds and characters

Short Drama • 3-6pm
This is truly an international film fest with 18 short films from France, Brazil, Iran, China, Spain, Malaysia, and the US, many of which are premieres!


Film Break • 6-7pm
Take a dinner break or browse the gallery and enjoy light refreshments before the Feature film Finale!


Feature Film Finale • 7pm
"Money"
by Martín Rosete (Spain / 84 min)
Two wealthy businessmen are about to get away with $5 million in ill-gotten money until their plans are revealed by an uninvited house guest.
Full Program
2017 Schedule in printer spreads

_____________________________________________
Announcing
We are now located at 2160 Hwy 70, East of Asheville
featuring:Expanded gallery space
Additional film screening area
Arts & crafts store
Visiting artist workspace
Open Mic every Sunday from 5:30pm to 7:30pm
Special exhibits & events
Twin Rivers Media Festival
Publish your Book of Poetry or Fiction

_____________________________________________
11th Annual International
Anything Goes...Everything Shows!
Mail Art Exhibit

Send in your entries for the 2017 exhibit!
Deadline coming in August 2017

Send Submission to:
Anything Goes, Everything Shows
Carlos Steward
PO Box 9907
Asheville, NC 28815
Check out these previous entries for ideas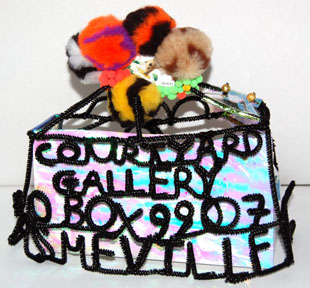 Using the postal system as a medium, participants have sent in a variety of fascinating entries! Artists were encouraged to explore imagery and themes of any kind, and use a variety of sizes, shapes and media. Viewers are encouraged to touch the entries, even interact. Favorite pieces from previous years are also included. Click here for more.
2013 MountainX: Mail Artist en masse
2011 article by James Shea - "Mail It In"
2010 4th Annual Mail Art Exhibit--"Anything Goes--Everything Shows III"
2009 Photo Gallery by Steve Dixon
2008 Review by Marshall Gordon
2007 Review by Connie Bostic
_____________________________________________
Support your local chapter


Veterans For Peace,
_____________________________________________
Join our forum--talk about art, literature, open mic, films etc!
Twin Rivers Media Festival Winners and Schedule
Click here for film and video festival information
Twin Rivers Media Festival was held May 27-29, 2011
The best animation, short drama, audio art, documentaries, and feature films submitted from throughout the world.

Join our Forum Discussions here!
The "True Home" Open Mic PODCAST now has over 180,000 Subscribers in 52 countries including Farkministan and GROWING. Now through Sonic Bids. See past Videocasting! View the True Home Open Mic.
The True Home Open Mic Featured in Bold Life Magazine.
Read about the Courtyard Gallery Podcast!
At The Courtyard Gallery and Agency, we know that good design is more than just pretty pictures. In order for design to be successful to your company, it must be smart, eye-catching, and relevant. It is the ideas that move the design, which in turn moves your product or service.

We are a full service design studio focusing on print design, logo creation, web design and development, and more. Check out all that the Courtyard offers under the services tab above.

Of course not everything we do is commercial. We are also supportive of the arts. Get directions and stop by the Gallery while in Asheville to check out some of the best work from artists across the country.

Twin Rivers Media Festival
Submit your films, video, audio art and multi-media projects. Complete film and video festival information and entry forms here.

Our Friends:
Construction and Remodeling Asheville
Discounted Women's Shoes
Phil Mechanic Studios
tourist map of Asheville
organic mattresses asheville
quality furniture, Northern AL
Asheville Spa and Resort, Bed and Breakfast
The Flood Fine Arts Center
The Black Mountain Press
Discount Brand Name Shoes, Housershoes.com