Courtyard Gallery
March 2017 World Cinema Screenings (every Friday at 8pm)
March 3
Tokyo Story
Director: Yasujiro Ozu (Japan 1953; 137 min).
A profoundly stirring evocation of elemental humanity and universal heartbreak, this film follows an aging couple's journey to visit their grown children in bustling postwar Tokyo, and surveys the rich and complex world of family life with the director's customary delicacy and incisive perspective on social mores.
March 10
Vanya on 42nd Street
Director: Louis Malle (United States 1994; 119 min).
In the early 90s, theater director André Gregory mounted a series of spare, private performances of Anton Chekhov's "Uncle Vanya" in a crumbling Manhattan playhouse. This experiment in pure theater—featuring a remarkable cast of actors, including Wallace Shawn, Julianne Moore, Brooke Smith, and George Gaynes—would have been lost to time had it not been captured on film, with subtle cinematic brilliance, by Louis Malle. This film, which turned out to be Malle's last, is a tribute to the playwright's devastating work as well as to the creative process itself.
March 17
Cries and Whispers
Director: Ingmar Bergman (Sweden 1972; 91 min).
This existential wail of a drama from Ingmar Bergman concerns two sisters, Karin (Ingrid Thulin) and Maria (Liv Ullmann), keeping vigil for a third, Agnes (Harriet Andersson), who is dying of cancer and can find solace only in the arms of a beatific servant (Kari Sylwan). A powerful depiction of human behavior in the face of death, positioned on the borders between reality and nightmare, tranquillity and terror.
March 24, ~ No film ~ See you next week!
March 31
La Chinoise
Director: Jean-Luc Godard (France, 1967; 96 min).
Paris, 1967. Five university students spend their summer vacation holed up in an apartment borrowed from a friend's wealthy parents. They spend their time studying political texts, delivering lectures to each other, and discussing how they can apply the teachings of Mao Tse-tung to their own lives. After reading a series of texts advocating violence in the cause of revolution, the group agree to carry out a serious assignment.
Subscribe to the Flood Fine Arts Center Newsletter
and receive Courtyard Gallery updates by email!
Doors open at 7:30 pm
This is a free event, but donations are appreciated.
_____________________________________________
24th Annual Twin Rivers Media Festival
Feb. 2018
Flood Gallery Fine Art Center
_____________________________________________
Announcing
We are now located at 2160 Hwy 70, East of Asheville
featuring:Expanded gallery space
Additional film screening area
Arts & crafts store
Visiting artist workspace
Open Mic every Sunday from 5:30pm to 7:30pm
Special exhibits & events
Twin Rivers Media Festival
Publish your Book of Poetry or Fiction

_____________________________________________
11th Annual International
Anything Goes...Everything Shows!
Mail Art Exhibit

Send in your entries for the 2017 exhibit!
Deadline coming in August 2017

Send Submission to:
Anything Goes, Everything Shows
Carlos Steward
PO Box 9907
Asheville, NC 28815
Check out these previous entries for ideas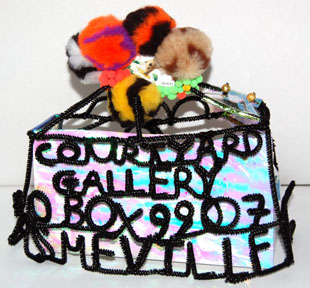 Using the postal system as a medium, participants have sent in a variety of fascinating entries! Artists were encouraged to explore imagery and themes of any kind, and use a variety of sizes, shapes and media. Viewers are encouraged to touch the entries, even interact. Favorite pieces from previous years are also included. Click here for more.
2013 MountainX: Mail Artist en masse
2011 article by James Shea - "Mail It In"
2010 4th Annual Mail Art Exhibit--"Anything Goes--Everything Shows III"
2009 Photo Gallery by Steve Dixon
2008 Review by Marshall Gordon
2007 Review by Connie Bostic
_____________________________________________
Support your local chapter


Veterans For Peace,
_____________________________________________
Join our forum--talk about art, literature, open mic, films etc!
Twin Rivers Media Festival Winners and Schedule
Click here for film and video festival information
Twin Rivers Media Festival was held May 27-29, 2011
The best animation, short drama, audio art, documentaries, and feature films submitted from throughout the world.

Join our Forum Discussions here!
The "True Home" Open Mic PODCAST now has over 180,000 Subscribers in 52 countries including Farkministan and GROWING. Now through Sonic Bids. See past Videocasting! View the True Home Open Mic.
The True Home Open Mic Featured in Bold Life Magazine.
Read about the Courtyard Gallery Podcast!
At The Courtyard Gallery and Agency, we know that good design is more than just pretty pictures. In order for design to be successful to your company, it must be smart, eye-catching, and relevant. It is the ideas that move the design, which in turn moves your product or service.

We are a full service design studio focusing on print design, logo creation, web design and development, and more. Check out all that the Courtyard offers under the services tab above.

Of course not everything we do is commercial. We are also supportive of the arts. Get directions and stop by the Gallery while in Asheville to check out some of the best work from artists across the country.

Twin Rivers Media Festival
Submit your films, video, audio art and multi-media projects. Complete film and video festival information and entry forms here.

Our Friends:
Construction and Remodeling Asheville
Discounted Women's Shoes
Phil Mechanic Studios
tourist map of Asheville
organic mattresses asheville
quality furniture, Northern AL
Asheville Spa and Resort, Bed and Breakfast
The Flood Fine Arts Center
The Black Mountain Press
Discount Brand Name Shoes, Housershoes.com