Cancelled!
Daniel Ouellette and the Shobijin May 23rd, 8pm at the Courtyard Gallery--Cancelled due to illness, we will re-schedule another date!
NEW Expanded Courtyard Gallery
Exhibit: Jerrett Leone, Lisa Walraven, Jack Lerman

The National War Tax Conference in Asheville was a HUGE
success. See Video of the Event here.

Schedule for the
Twin Rivers Media Festival Continues May 23rd & 24th

Every Friday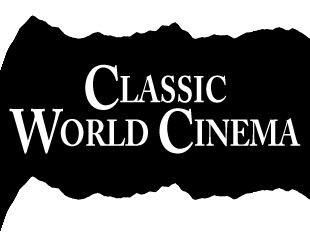 Foreign Film Series • 8pm each Friday night
upstairs in the Railroad Library
109 Roberts St, Phil Mechanic Studios
River Arts District, Asheville

May 2013 Schedule
All films screen at 8pm

See Review of This Weeks Film
Scroll down to "Special Showings"
May 3rd--Tout Va Bien, 1972, 95 minutes, Directed by Jean-Luc Godard, French
Jean-Luc Godard dissects the structure of society, movies, love and revolution. He asks compelling questions: Can love survive a relationship? Can ideology survive revolution? He also looks at the French student riots of the 1960s with a critical eye, and ends up satirizing contemporary views of history. A battery of thoughts complete with criticism of modern society and movies
May 10th--10th—Trafic, 1971, 96min, Directed by Jacques Tati, French
At Altra Motors, Mr. Hulot designs an ingenious camper car with lots of clever features. A lorry hauls the prototype to an important auto show in Amsterdam, with Mr. Hulot alongside in his car and a spoiled, trendy PR exec, the young Maria, in her sports car packed with designer clothes and her fluffy dog. The lorry has every imaginable problem, delaying its arrival.
May 17th--La Jetee, 1962, 28min, Directed by Chris Marker, French and Short Film Winner at Twin Rivers Media Festival
Time travel, still images, a past, present and future and the aftermath of World War III. The tale of a man, a slave, sent back and forth, in and out of time, to find a solution to the world's fate. To replenish its decreasing stocks of food, medicine and energies, and in doing so, resulting in a perpetual memory of a lone female, life, death and past events that are recreated on an airports jetée, combined with the Short Film Winner at Twin Rivers Media Fest, TBA

May 24--Feature Film Winner at the Twin Rivers Media Festival
Winning Film TBA
The 20th Annual Twin Rivers Media Festival will present it's
Feature Film Winner for 2013-House of Good and Evil. Review at: http://www.mountainx.com/article/50157/House-of-Good-and-Evil
May 31st. An Angel at my Table, 1990, 158min, Directed by Jane Campion, New Zealand
In 1920s and 1930s New Zealand, Janet Frame grows up in a poor family with lots of brothers and sisters. Already at an early age she is different from the other kids. She gets an education as a teacher but since she is considered abnormal she stays at a mental institution for eight years. Success comes when she starts to write novels.

Doors open at 7:45 pm and close at 8:15, so get there on time!
This is a free event, but donations are appreciated.
_____________________________________________
Announcing
We are now on the top floor of the Phil Mechanic Studios.
featuring:
Expanded gallery space
Additional film screening area
Arts & crafts store
Visiting artist workspace
Open Mic every Monday 8pm-11pm
Special exhibits & events
Twin Rivers Media Festival
Veterans for Peace office
Publish your Book of Poetry or Fiction

_____________________________________________
8th Annual International
Anything Goes...Everything Shows!
Mail Art Exhibit

Send in your entries for the 2013 exhibit!
Deadline September 15th, 2013

Send Submission to:
Anything Goes, Everything Shows
Carlos Steward
PO Box 9907
Asheville, NC 28815
Check out these previous entries for ideas
Current Mail Art Exhibit
Sept 15th -October 27th, 2012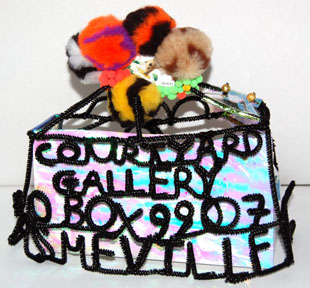 Courtyard Gallery • Top Floor
Phil Mechanic Studios • 109 Roberts St. • Asheville, NC
Using the postal system as a medium, participants have sent in a variety of fascinating entries! Artists were encouraged to explore imagery and themes of any kind, and use a variety of sizes, shapes and media. Viewers are encouraged to touch the entries, even interact. Favorite pieces from previous years are also included. Click here for more.
2011 article by James Shea - "Mail It In"
2010 4th Annual Mail Art Exhibit--"Anything Goes--Everything Shows III"
2009 Photo Gallery by Steve Dixon
2008 Review by Marshall Gordon
2007 Review by Connie Bostic
_____________________________________________
Support your local chapter


Veterans For Peace,
at the Courtyard Gallery
_____________________________________________
Join our forum--talk about art, literature, open mic, films etc!
Twin Rivers Media Festival Winners and Schedule
Click here for film and video festival information
Twin Rivers Media Festival was held May 27-29, 2011
The best animation, short drama, audio art, documentaries, and feature films submitted from throughout the world.

Join our Forum Discussions here!
The "True Home" Open Mic PODCAST now has over 180,000 Subscribers in 52 countries including Farkministan and GROWING. Now through Sonic Bids. See past Videocasting! View the True Home Open Mic.
The True Home Open Mic Featured in Bold Life Magazine.
Read about the Courtyard Gallery Podcast!
At The Courtyard Gallery and Agency, we know that good design is more than just pretty pictures. In order for design to be successful to your company, it must be smart, eye-catching, and relevant. It is the ideas that move the design, which in turn moves your product or service.

We are a full service design studio focusing on print design, logo creation, web design and development, and more. Check out all that the Courtyard offers under the services tab above.

Of course not everything we do is commercial. We are also supportive of the arts. Get directions and stop by the Gallery while in Asheville to check out some of the best work from artists across the country.

Twin Rivers Media Festival
Submit your films, video, audio art and multi-media projects. Complete film and video festival information and entry forms here.

Open Mic--Now Submit for our Virtual Open Mic Radio at Sonicbids.com Get Heard by 180,000 subscribers!
Our Friends:
Phil Mechanic Studios
tourist map of Asheville
organic mattresses asheville
quality furniture, Northern AL
Asheville Spa and Resort, Bed and Breakfast
The Flood Fine Arts Center
Been There Tees--Buy a T-shirt from a tourist destination